Sedona
groupshow curated by Le Syndicat Magnifique, from February to May 201, La Villa du Parc, Annemasse (FR)
with Cédric Esturillo, Julie Grosche, Jade Gordon & Megan Whitmarsh, Anne-Sarah Huet, Carin Klonowski, Lou Masduraud, Shana Moulton, MSHR, Tabita Rezaire and Adam Ulbert With the participation of Tom Dongo

press kit FR here


The city of Sedona (AZ) lies coiled between the canyons of the Sonora Desert and its seemingly boundless vistas. First painted, then photographed and filmed, the red reliefs of the American West are now part of a worldwide broadcasted visual imagery. In the 1940s, Max Ernst and Dorothea Tanning settled in Sedona; there, Tanning painted some of her best-known works, while Ernst created his colossal totem-sculpture Capricorn, which he positioned in front of the open landscape. The two Surrealist artists were the forerunners of a mystical exodus that transformed the town into a tourist-spiritual complex. Only second to the Grand Canyon in terms of attractiveness, Sedona draws roughly three million visitors per year.

Sedona is home to a peculiar syncretism, which merges a wide range of beliefs: from indigenous legends calling it the mythical place of world creation to the discovery of energy vortexes in its canyons, or its proximity to Area 51. As its attractions multiplied through the years, they supported the development of a solid local economy based on spiritual quest. By the start of the 1980s, the city was regarded as the American capital of the New Age. The various trends found in New Age precepts prefigured the contemporary obsession with wellness and self-management. By spreading practices of self-representation and productivist managing of body and mind, the New Age approach participated in the establishment of a capitalist injunction, nowadays echoing through social networks and digital technologies, namely, BE YOUR BEST SELF.

The show offers a tour through immersive sensorial installations that conjure mythologies of Western American landscapes along with the spiritual quest of Sedona's pilgrims (the geologico-scifi sculptures of Cédric Esturillo, the Thalassa II series by Adam Ulbert, or the performance-video of Julie Grosche). Sound, video or olfactory installations offer visitors the chance to experience New Age practices and their contradictions, whether in spaces of relaxation (Lou Masduraud's Active Substances fountain and Carin Klonowski's TLCD performance) and personal development (MSHR's meditation maze), or their consumerist by-products (Jade Gordon and Megan Whitmarsh's spiritual coaching tutorials) and digital transformations (Tabita Rezaire's video titled Hoetep Blessing). At the center of the exhibition stands Shana Moulton's discreet work, which functions as a mantra within the Villa's space. Both starting and ending points of the exhibition, After Messiaen serves as repository of an tongue-in-cheek art that is both comical and critical. Steeped in Californian spirituality and internet aesthetic, Shana Moulton acts as a guardian figure – Oh mother!
---
Dans le cadre de sa saison 2018-2019 intitulée « White Mirror » et consacrée au regard des artistes sur l'impact de l'ère digitale, la Villa du Parc invite le collectif curatorial Le Syndicat Magnifique à concevoir une exposition de groupe. Celle-ci trouve paradoxalement son point de départ dans un lieu non pas virtuel, mais physique : Sedona, ville d'Arizona lovée entre les canyons du désert de Sonora et ses paysages grandioses. D'abord peints puis photographiés et filmés, les reliefs rouges de l'Ouest américain font partie d'un imaginaire visuel à circulation mondiale. Dans les années 1940, Max Ernst et Dorothea Tanning s'installent à Sedona ; elle peint parmi ses toiles les plus connues et il réalise son immense sculpture-totem Capricorne, érigée face au paysage. Les artistes surréalistes sont alors les précurseurs d'un exode mystique qui n'aura de cesse de transformer la petite ville en complexe touristico-spirituel.
Petite sœur du Grand Canyon en terme d'attractivité, Sedona attire près de 3 millions de visiteur.euse.s par an. Il s'y opère un syncrétisme de croyances particulier : qu'il s'agisse de légendes autochtones en faisant le lieu mythique de la création du monde, de la découverte de vortex d'énergies telluriques dans ses canyons ou encore de la proximité avec la zone 51, le nombre d'attractions n'a cessé de croître, entraînant le développement d'une véritable économie locale fondée sur la quête spirituelle. Dès le début des annés 80, la ville est considérée comme la capitale américaine du New Age, dont les différents courants préfigurent l'obsession contemporaine du bien-être et du self-management. En diffusant des pratiques de mise en scène de soi et de gestion productiviste des corps et des esprits, ils ont participé à l'établissement de l'injonction contemporaine des technologies numériques et des réseaux sociaux : BE YOUR BEST SELF.
L'exposition propose une déambulation entre des environnements immersifs et sensoriels qui évoquent la mythologie du paysage de l'Ouest américain, ainsi que la quête spirituelle des pèlerins de Sedona (les sculptures géologico-scifi de Cédric Esturillo, la série d'oeuvres Thalassa II d'Adam Ulbert ou la vidéo performée de Julie Grosche). Des installations sonores, vidéo ou olfactives offrent une expérience du New Age et de ses contradictions : tant des espaces de détente (la fontaine Active Substances de Lou Masduraud et la performance TLCD de Carin Klonowski) et de développement personnel (le labyrinthe méditatif de MSHR) que leurs dérives consuméristes (les tutoriels de coaching spirituel deJade Gordon et Megan Whitmarsh) et leurs transformations digitales (la vidéo Hoetep Blessing de Tabita Rezaire). Au centre de l'exposition, l'œuvre discrète de Shana Moulton fait fonction de mantra dans l'espace de la Villa. Point de départ et de retour de l'exposition, dépositaire d'un art à la fois drôle et critique, imbibé de spiritualité californienne et d'esthétique internet, elle fait office de figure tutélaire - Oh mother !
grphic design: Charles Villa, 2019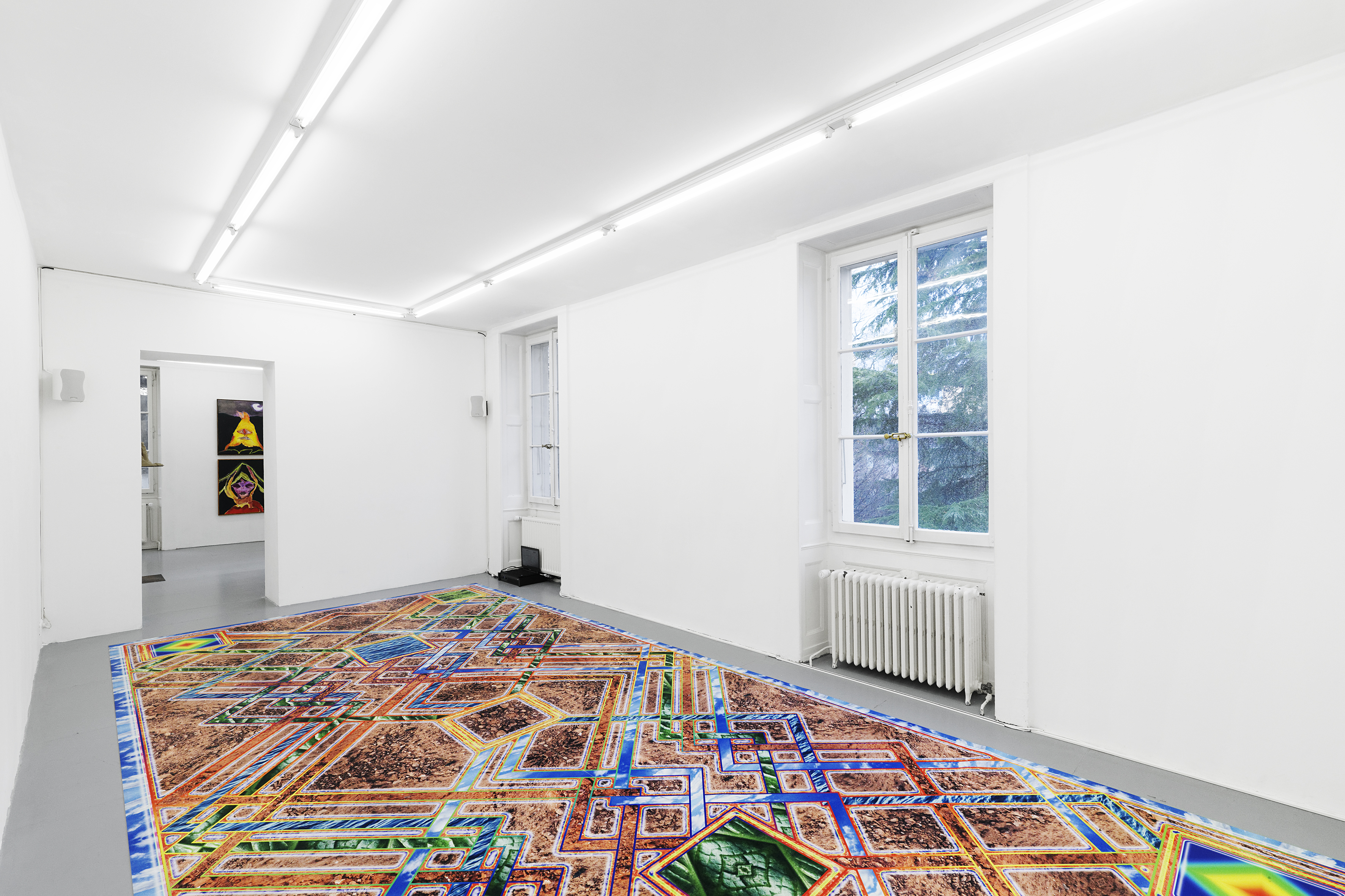 photos : Aurélien Mole, Villa du Parc, 2019